Dear friends,
We are very happy to do another write up again on Tsh Resources
Things are getting very clear as we move forward
And these are some salient factors
1) TSH RESOURCES IS VERY UNDERVALUE
Tsh has 80% palm oil estates in Indonesia.
So is Bumitama with 100% Palm oil estates in Indonesia & Goldenagri also got majority palm oil estates in Indonesia
Latest news tell us that Indonesia has uplifted Palm oil export ban
Now we bought TSH at Rm1.10, Bumitama at 46 sen (Spore) & Goldenagri 14 sen (Spore)
Of of now TSH is up 30%, Bumitama up 60% & Goldenagri up by more than 100%
Since Indonesia has a higher levy & export tax and yet both Bumitama & Goldenagri up 60% to 100% we deem the price of TSH too cheap to ignore
2) Positive Results of Swkplant & Simedarby plant show that TSH Resources will also report another set of Excellent Results Next Week
Just in : Swkplant despite less FFB (Fresh Fruit Bunch) Production by 35% the Price of Cpo up 36% (from Rm4417 per ton to Rm6,015 per ton) still good results
That means that the High Price Surge of CPO by 36% more than Over-ride the drop in FFB
What is true about Swkplant will also be true for Tsh
More so because TSH FFB production did not drop
See
FFB 3 months (Oct to Dec 2021) totalled 196,300 tonnes
FFB 3 months (Jan to March 2022) totalled 197,800 tonnes
So there is an increase of 1,500 tonnes of FFB
Plus TSH will receive Rm6.3 Millions dividends from its 21.95% investment in Innoplant (Dividend 6 sen)
3) TSH shoud report at least 6 sen Profit (if no impairments)
See last results
SUMMARY OF KEY FINANCIAL INFORMATION
31 Dec 2021
PRECEDING YEAR
CORRESPONDING
QUARTER

PRECEDING YEAR
CORRESPONDING
PERIOD

31 Dec 2021

31 Dec 2020

31 Dec 2021

31 Dec 2020

1

Revenue

328,350

241,089

1,188,919

926,003

2

Profit/(loss) before tax

84,303

48,404

253,683

130,242

3

Profit/(loss) for the period

73,195

34,040

201,616

90,324

4

Profit/(loss) attributable to ordinary equity holders of the parent

63,433

33,347

169,008

79,487

5

Basic earnings/(loss) per share (Subunit)

2.42

12.25

5.76

6

Proposed/Declared dividend per share (Subunit)

3.00

1.50

3.00

1.50

AS AT END OF CURRENT QUARTER

AS AT PRECEDING FINANCIAL YEAR END

7

Net assets per share attributable to ordinary equity holders of the parent ($$)

1.1890

1.0531
If we take the extra 1,500 tonnes of FFB to negate the rise of fertilizer and things remain status quo
Then the Cpo price rise of 36%
Will show
4.60 sen X 1.36
= 6.25 sen profit (projected profit)
Annualised
6.25 sen x 4
= 25 sen
Current price of TSH is Rm1.45
Forward P/E = 145 divides by 25
P/E = 5.8
This is better than Goldenagri (P/E 6), Bumitama (P/E 8) & Wilmar (P/E 10)
More to come
4) VISIBLE 7.56 SEN profit to be reported by August 2022 Results
Sale of Sabah 2 estates & mill for Rm248 Millions just completed
Company guidance gave a Net 7.56 sen profit
Cash Received in May 2022 so it will be reported by August 2022 Qtr
And just in (TSH April FFB has increased to 73,000 tonnes at even high Cpo prices above Rm6500)
So from operations there will be added OOOMPH!! to August 2022 Results
And more to come
5) TSH has signed HOA (head of agreements) to sell Bulugan Regaency Lands (Deposit received) for Rm712 MILLIONS By Early 2023 completion
Of this there will be a Very excellent 31 sen profit
Should be on time for May 2023 results
6) THE 4 GOLD MINE ASSETS OF TSH IN KUTAI NOW NUSANTARA THE NEW ADMIN CAPITAL OF INDONESIA
About a decade back TSH bought 4 Palm oil estates in Kutai with a combine land area of 94,700 acres (About 52% of Singapore landmass of 180,000 Acres
Now NUSANTARA is the Hottest of Hot Spots on Planet Earth as President Jokowi expected to shift his Presidential Palace there by year 2024 Officially
See
Kementerian ATR/BPN Tepis Isu Harga Tanah di IKN Naik 10 Kali Lipat
Kamis 17 Mar 2022 05:58 WIB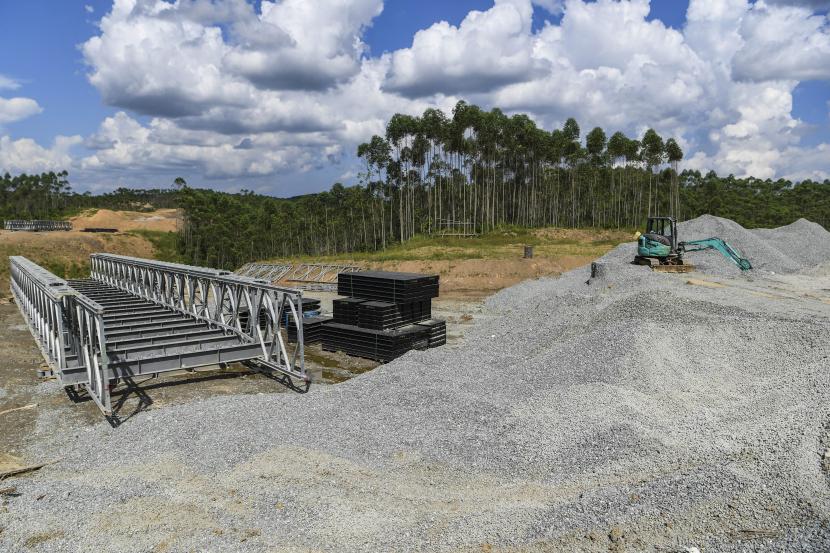 REPUBLIKA.CO.ID, JAKARTA--Kementerian Agraria dan Tata Ruang/Badan Pertanahan Nasional (ATR/BPN) menepis isu mengenai harga tanah di wilayah Ibu Kota Negara (IKN) Nusantara yang melambung tinggi. Harga tanah di wilayah Nusantara dikabarkan naik hingga 10 kali lipat.
"Sejauh ini sih saya belum dapat laporan ya kalau isunya di sana itu harganya melambung tinggi. Namanya juga isu, jadi kalau isu tidak dapat kita percaya. Jadi harus kita lihat, cari informasi dulu ke sana apa benar ada cerita seperti itu," kata Kepala Biro Humas Kementerian ATR/BPN Yulia Jaya Nirmawati saat dihubungi di Jakarta, Rabu (16/3/2022).
Yulia menegaskan, penetapan kebijakan terkait spekulan dan harga tanah di IKN akan menjadi kewenangan Kepala Otorita IKN yang baru saja ditetapkan oleh Presiden. Dia mengatakan Kementerian ATR/BPN bertugas dalam pengaturan tata ruang baik di IKN maupun wilayah sekitarnya.
Sebelumnya, Gubernur Kalimantan Timur Isran Noor membantah adanya kenaikan harga tanah di wilayah IKN Nusantara yang melonjak lima hingga 10 kali lipat. Isran menegaskan, tanah yang akan dibangun IKN milik negara berupa tanah hutan produksi yang selama ini diusahakan sebagai tanaman hutan industri.
Dia menyebut, apabila ada spekulan bermain dengan melambungkan harga tanah di luar area pembangunan IKN akan sia-sia karena tidak akan ada yang mau membelinya. Pemerintah Provinsi Kalimantan Timur juga sudah membuat Peraturan Gubernur Nomor 6 Tahun 2020 tentang pengendalian peralihan penggunaan tanah dan perizinan pada kawasan calon ibu kota negara dan kawasan penyangga.
Dalam regulasi tersebut dijelaskan, Pemerintah Provinsi Kalimantan Timur melakukan pengendalian atas peralihan dan penggunaan tanah pada kawasan calon IKN dan penyangga. Disebutkan juga, pejabat daerah terkait diminta tidak menerbitkan izin baru, perpanjangan, rekomendasi di kawasan calon IKN dan kawasan penyangga sesuai kewenangannya kecuali untuk kepentingan pemerintah.
Selain itu Kantor Wilayah Badan Pertanahan Nasional (BPN) Kalimantan Timur juga menerbitkan Surat Edaran bernomor HP.01.03/205-64/II/2022 yang isinya mengatur tentang pembatasan penjualan atau pembelian tanah di kawasan IKN Nusantara di Penajam Paser Utara dan Kutai Kartanegara. Surat edaran tersebut bertujuan guna mengendalikan peralihan atau transaksi jual beli tanah yang tidak wajar, yakni satu orang membeli tanah dalam jumlah yang sangat besar.
THE RUSH TO BUY LANDS IN NUSANTARA NOW IN EARNEST
THERE IS NO EASIER WAY TO RIDE ON LAND BOOM IN NUSANTARA THAN BY RIDING ON TSH AS A PROXY TO OUR LAND INVESTMENTS
AND MORE SO
THE BOOK VALUE OF THOSE KUTAI LANDS (94,700 ACRES) Have an amazing book value of as low as 13 sen per sq feet (Current asking price is Rm10 to Rm50 psf & still going higher as we type.
7. DIRECTORS OF TSH HAVE BEEN BUYING THEIR OWN COPANY SHARES LIKE NO TOMORROW
A) Director Lim Fook Hin just added 500,000 shares of TSH to make it 2.6 Millions
B) Director Kelvin Tan Aik Pen bought 3 Million Shares of TSH at Rm1.54 (From bursa filing)
C) Director Tan Aik Yong bought A Whopping 16 Million TSH shares at average price of Rm1.643
TSH Now Rm1,45
Our Target Price Rm4.00 (One year)
See by May 31st 2023 TSH will have reached Rm4.00 or not
Best regards
Calvin Tan
Please buy or sell after doing your own due diligence or consult your remisier/ Fund Manager
NOTE:
Out of 42 Palm oil related Co in Malaysia Morgan Stanley has picked TAANN & TSH RESOURCES TO BE INCLUDED IN ITS MSCI INDEX
This is another Testament & Endorement that TSH Resources is an outstanding Company